The Spanish private research organisation CARTIF has completed a first assessment focusing on the environmental and social performance of Metsä Group's Kuura textile fibre. Kuura is still in a R&D phase and the production process to make it is currently being tested and further developed at a ton per day demo plant in Äänekoski, Finland.
The outcome of the assessment conducted by CARTIF is very good for Kuura. In regard to environmental performance, when comparing to other commercial man-made cellulosic fibres (viscose and lyocell), and to cotton, Kuura shows the lowest impact on climate change, supporting its viability as a sustainable solution in the market of textile fibres (see Figure 1). More specifically, the use of local, sustainably managed wood raw material combined with the use of fully fossil-free energy obtained from the existing industrial mill site and with a novel process for the production of Kuura textile fibre result in a product with a clear climate change mitigation potential compared to the use of existing commercial textile fibres.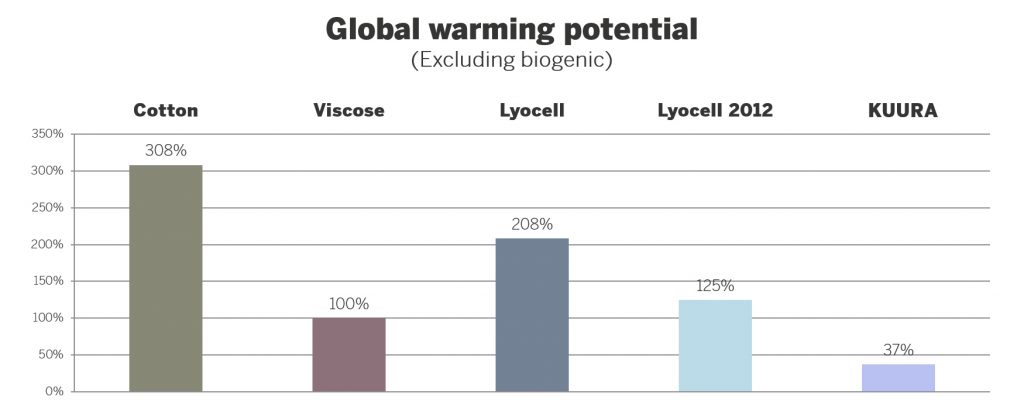 The social aspects of producing Kuura textile fibre were also evaluated by CARTIF as they form one of the three pillars of sustainability. The results of the social impact assessment are very positive for Kuura, as can be seen in Figure 2. In other words, this kind of industrial production, in the way outlined by Metsä Group, would get the highest score in all impact categories included in the assessment.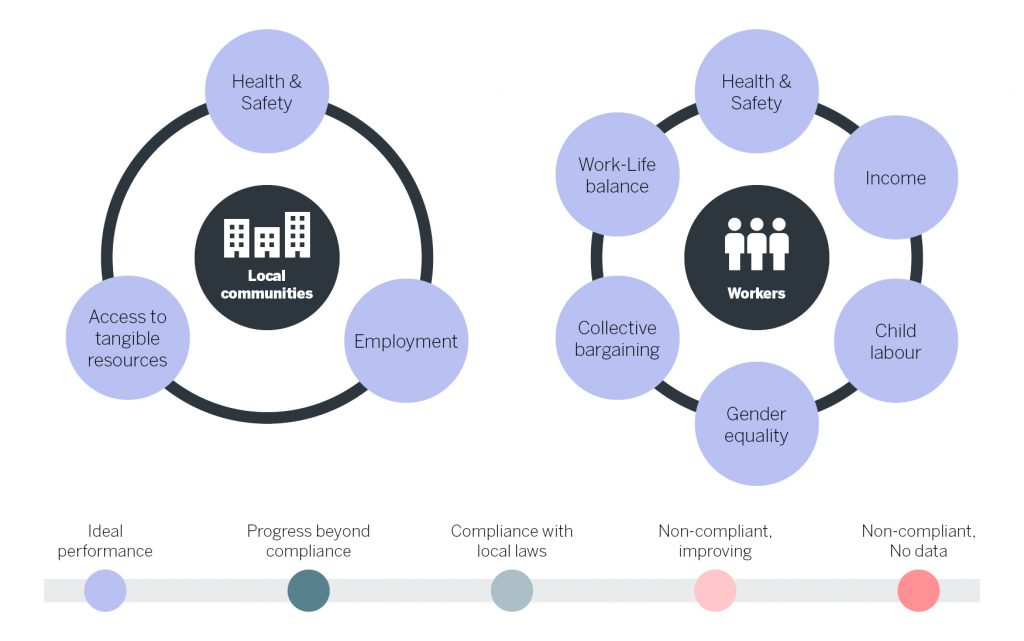 "Using Life Cycle Thinking already in the process design phase is a smart way of keeping sustainability aspects in the spotlight from the beginning. It is encouraging to see this commitment to sustainable development in big industrial players like Metsä Group", says Fernando Burgoa, LCA Specialist at CARTIF.
"Our manufacturing concept is based on locally-sourced wood that comes to us from forests owned and managed mainly by our cooperative owner-members, the use of never-dried paper-grade pulp as the raw material, and a comprehensive integration to a fossil-free bioproduct mill. Our own early estimate told us that the Kuura concept must be competitive in both environmental and social sustainability. Having now the proper LCA results to support this estimate gives us confidence that we are on the right track", says Niklas von Weymarn, CEO of Metsä Group's innovation company Metsä Spring.
CARTIF is a horizontal, private and non-profit research institution, whose main mission is providing innovative solutions to the industry to enhance their processes, systems and products, improving their competitiveness and creating new business opportunities. For more information, please go to: www.cartif.es.
The environmental impact assessment presented here was done using the life cycle assessment (LCA) methodology. This approach allows the evaluation of the environmental impacts of a product, process or a service considering its whole life cycle, providing interesting insights about its environmental performance. The methodology used follows the ISO 14040-14044 standards. Moreover, the data used to assess the references (viscose, etc.) was collected from well-known scientific sources.
For the social impact assessment, the Product Social Impact Assessment (PSIA) methodology, developed by the Roundtable for Product Social Metrics was used. This methodology evaluates a number of social impacts for different stakeholder groups, such as workers and local communities.
The assessment work done by CARTIF was part of the BIOMOTIVE project. BIOMOTIVE has received funding from the ​Bio-Based Industries Joint Undertaking under the European Union's Horizon 2020 research and innovation programme under grant agreement ​No. 745766. The BIOMOTIVE project develops bio-based automotive interior parts with enhanced technical performance, improved environmental profile and economic competitiveness. Manufacturing process development of novel textile fibres is a part of the project's scope. Metsä Fibre, part of Metsä Group, is also a partner of BIOMOTIVE. For more information, please go to: www.biomotive.info.